About this item
Simultaneously charge 3 devices at full speed and save up to 1 hour of charging time. This 100W GaN charger is able to charge 2 USB-C plus 1 USB-A devices at the same time. All ports support QC (quick charge) agreement. Only one charger meets all your charging needs.
GaN Chip Navitas 6127 Power IC to better power and performance. The new Gallium Nitride semiconductor material allows for power devices that can operate at higher voltages and switching frequency which creates smaller and more efficient chargers.
Work for almost any USB devices. Both USB-C ports can fully charge a MacBook Pro(Macbook pro 16''/15''/14''/13'',Macbook Air 13'',Macbook 12''),Dell XPS(13/15),HP Elite,YOGA,Google Pixelbook ,Chromebook or more. Fast charge Pixel 6/6 Pro/5,Switch, iPad Pro,iPhone 13/12/11 Pro/Pro Max/ XS/ XS Max/ XR/ X/ 8 Plus/ 8/,Pixel 3/2/XL, Nexus 5X / 6P, LG G6 / G5 and more.This pd wall charger works for Apple 20W,Samsung 25W/45W,MacBook 29W/61W/87W/96W,Dell 45W/65W/90W.
Less Heating and Higher Charging Efficiency, One of core factors of affecting power efficiency is the heat-dissipating capability.The third generation gallium nitride(GaN)semiconductor helps the charger to generate less heat and fasten the heat-dissipating process. At the meantime,this charger provides double power density and reduces power losses by 80% which also means increases the power efficiency.
Specifications:
Input: AC 100-240V 50/60Hz 2.5A
Output Power: 100W
PD1: PPS 3.3-16V/3A,5V3A,9V3A,12V3A, 15V3A,20V5A(100W)
PD2: PPS 3.3-16V/3A,5V3A,9V3A,12V3A, 15V3A,20V5A(100W)
USB-A: 5V4.5A, 4.5V5A, 9V3A, 12V2.5A, 20V1.5A(30W)
PD1+PD2: 65W+30W(95W)
PD1+QC: 65W+30W(95W)
PD2+QC: 65W+30W(95W)
PD1+PD2+QC: 60W+18W+18W(96W)
Plug type: KR/US
Size: 63x63x31mm
Color: White/Black
Certificate: KC
Details: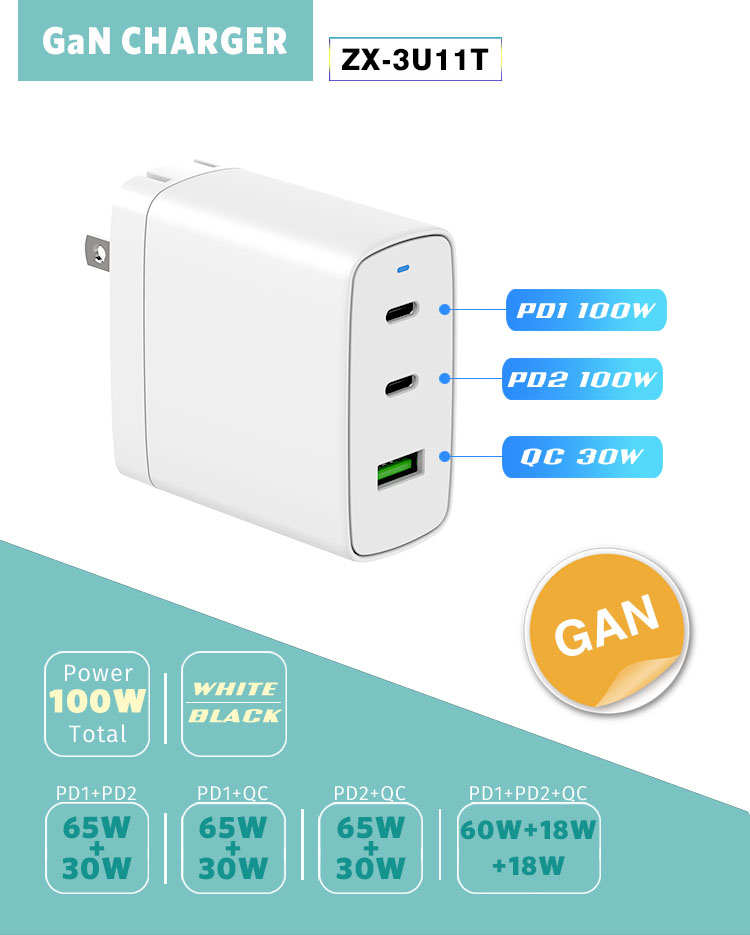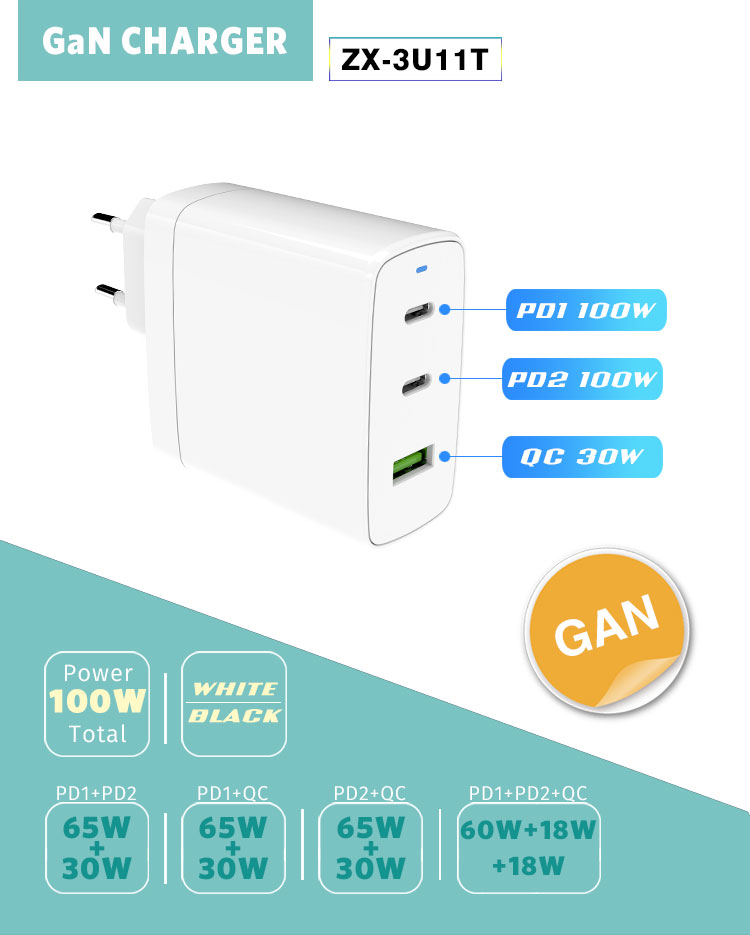 3 Port 100W GaN Fast Wall Charger, With 2 PD 100W Plus 1 QC3.0 30W. Charging 3 devices at the same time.
With EU US Plug For Options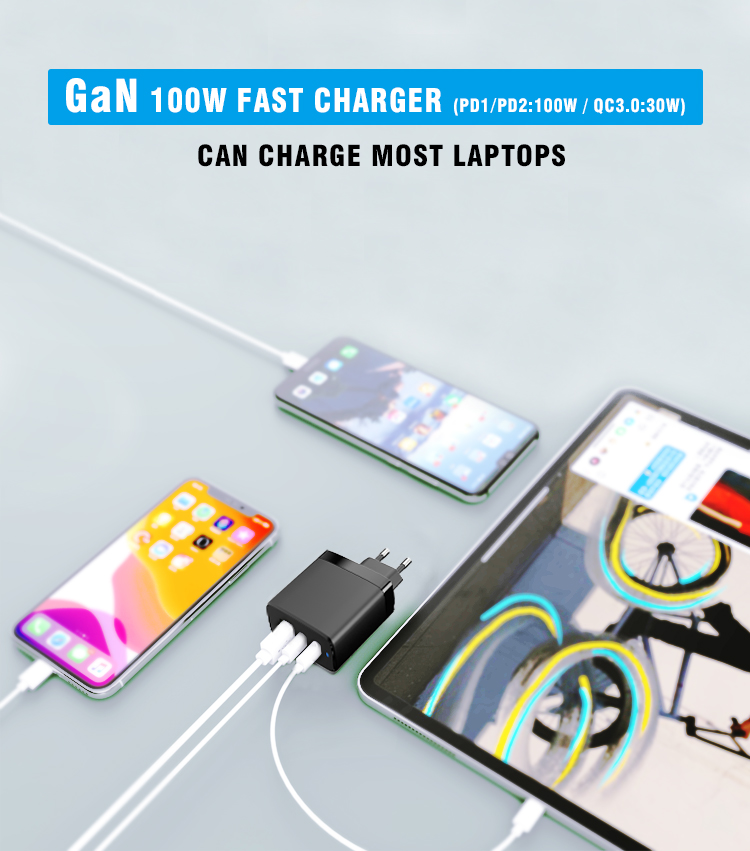 100W Chager Could Charge for most Laptop, Tablet and mobiles.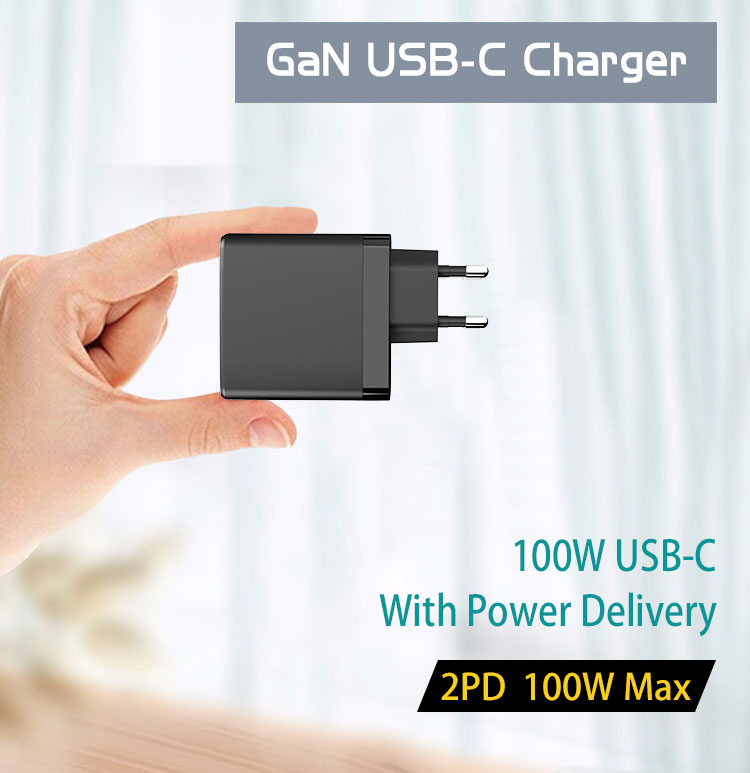 100W USB-C Power Delivery With Compact Size.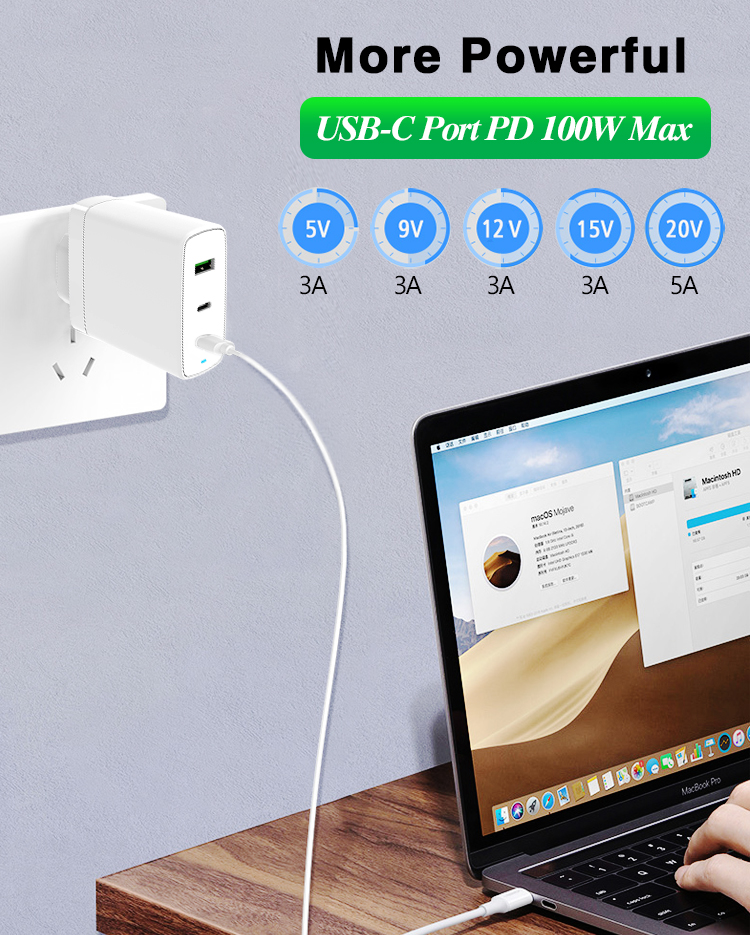 100W Fast Charge Macbook.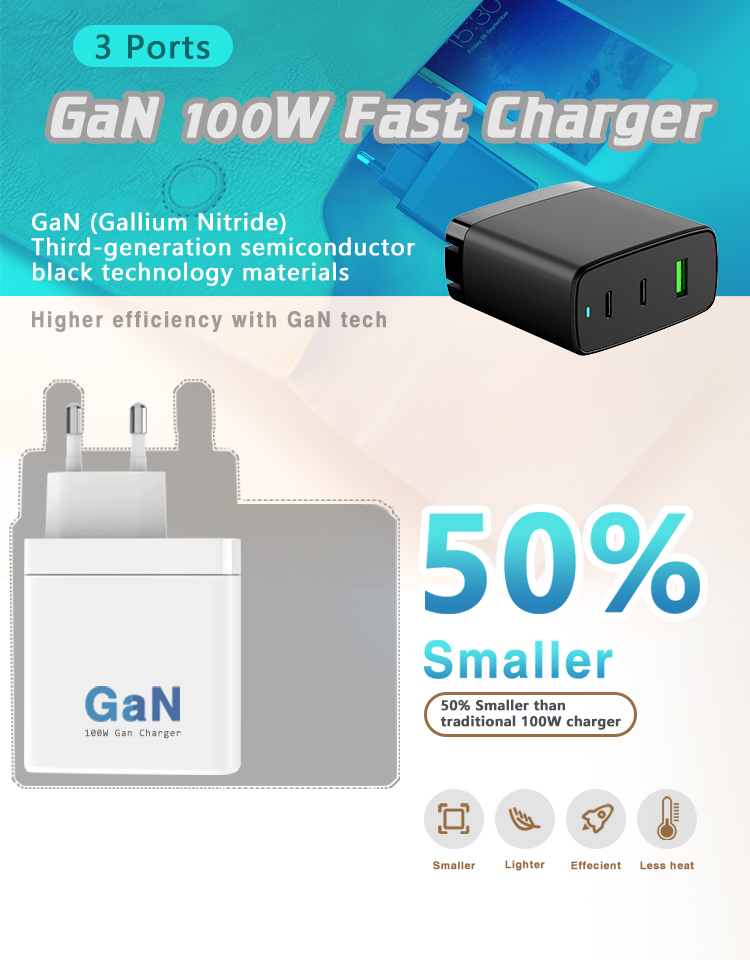 3 Port 100W Wall Charger With Navitas 6127 GaN IC Chipset.