Introduce:
【One is Enough】Three devices can be charged quickly at the same time with two type c ports (65W) and one USB A port (30W); Compatible with virtually any device, from Phone to Tablet to USBC Laptops and more. Suitable for working from home
【Universal Fast-Charging】With 65W high power output and quick charging protocols support for Apple/Samsung, this usb-c adapter charges your 13" MacBook Air to 100% in just 1.5 hours and iPhones 2.5 times faster than industry standard
【Incredibly Small Volume】GaN tech concentrates 65W of powerful power in the compact size of a palm, which is 30% smaller than the old 65W charger, portable enough to carry anywhere. The streamlined Gallium Nitride power system ensures a smaller and lighter charger with higher charging efficiency
【Safe & Reliable】Built-in intelligent chip enables the smart adjustment of output voltage, current and power via BPS technology when multiple devices are charged at the same time, higher charge conversion efficiency, lower temperature, and safe for use
65W Three-Port Mini Quick Travel Charger

Product Description:
Name: 2C1A 65W GaN PD PPS Fast Travel Wall Charger Power Adapter
Model: ZX-3U12T
GAN Technology charger
USB Port: 3 Port
Input:100-240V 50/60Hz 1.5A Max
Power:65W
Output PD-1(PPS): DC 3.3-11V 3A, 5V3A,9V3A,12V3A,15V3A,20V3.25A (65W)
Output PD-2(PPS): DC 3.3-11V 3A,
5V3A,9V/3A,12V2.5A, 15V/2A,20V/1.5A (30W)
Output(QC): 5V4.5A, 4.5V5A, 9V3A, 12V2.5A, 20V1.5A (30W)
Output(PD1+PD2): 45W+18W (63W)
Output(PD1+QC): 45W+18W (63W)
Output(PD2+QC): 5V3A (15W)
Output(PD1+PD2+QC): Total 45W+15W (60W)
Size: 54x54x30mm
Color: White/Black
Plug: EU/US/KR
Material: PC housing with V0 fire-proof material
Details:
gan 65w charger, type-c1: 65w, type-c 2: 30w, USB port : 30w, fast charge for laptop tablet mobile phones.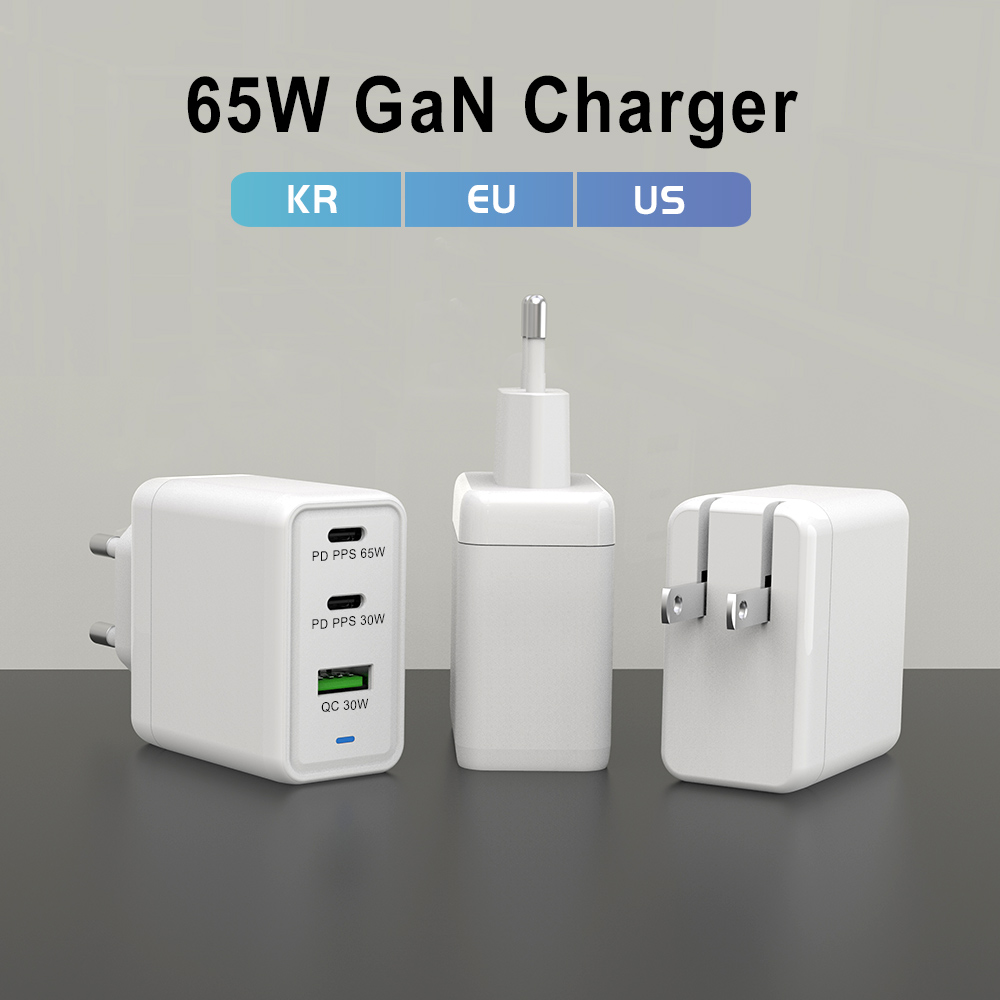 EU/US/KR Pluag For Choose.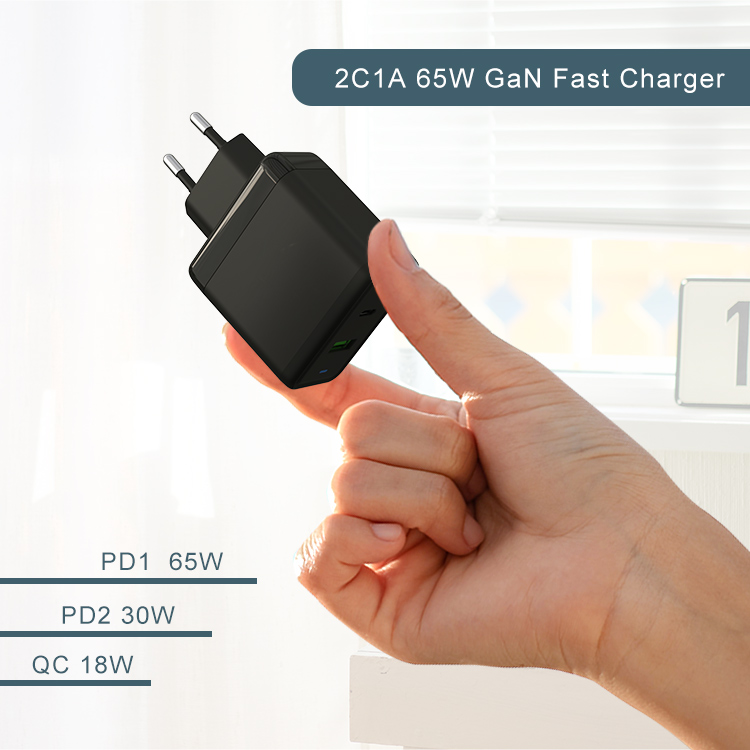 Ultra compact size.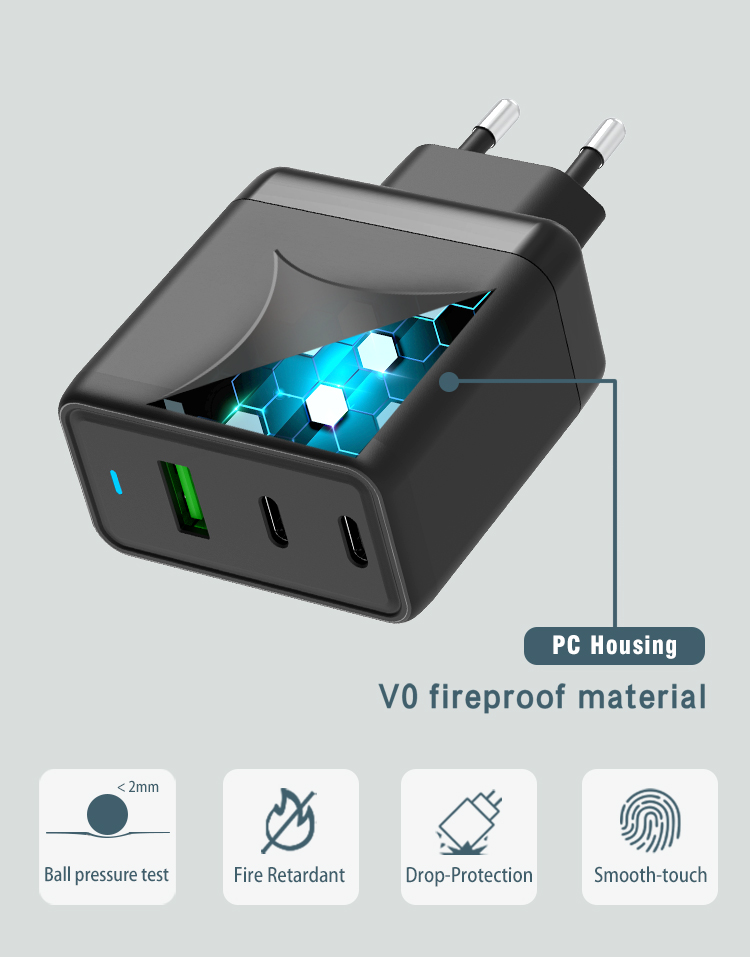 PC housing V0 fire-proof material.
Ball pressure test, fire retardant, drop-protection, smooth-touch.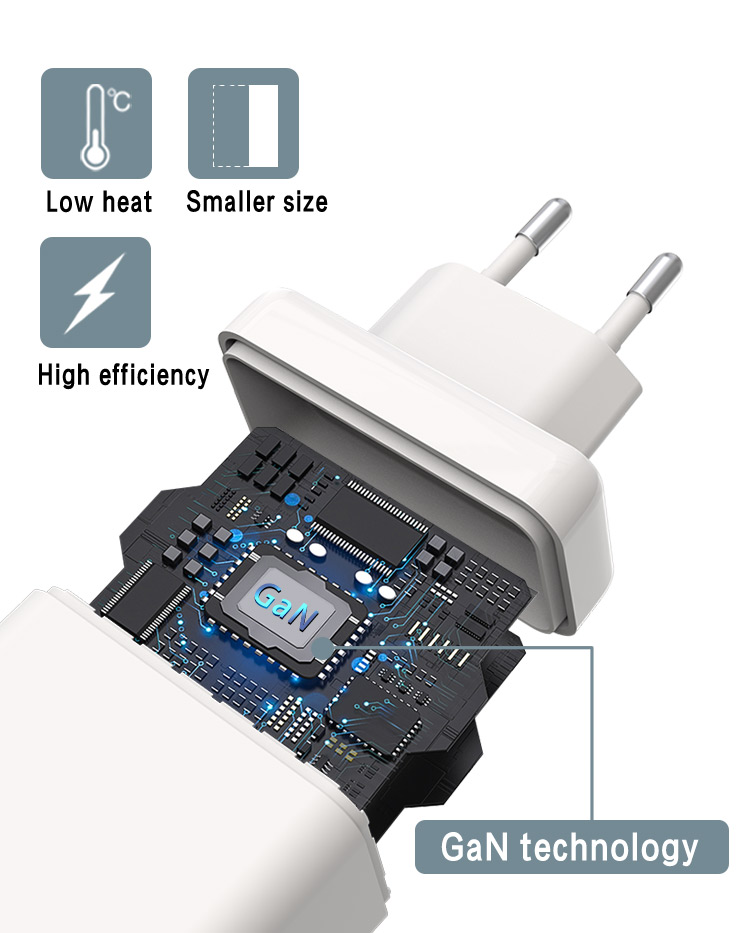 Low heat, smaller size, high efficiency, GaN Technology,