Introduce:

It is based on GaNFast solution from Navitas which enables high wattage inside an ultra compact form factor. It also makes the first debut of GaNFast on a multiport charger. GaN, or Gallium Nitride, which is a new type of semiconductor material that offers higher efficiency, higher thermal conductivity, higher temperature resistance, and other advantages than traditional silicon. When it comes to charging, GaN can greatly reduce the size and boost the efficiency of a charger.


Product Description:
Name: 2C1A 65W GaN PD PPS Fast Travel Wall Charger Power Adapter
Model: ZX-3U10T
Input:100-240V 50/60Hz 1.5A Max
Power:65W
Output PD-1(PPS): DC 3.3-11V 3A, 5V3A,9V3A,12V3A,15V3A,20V3.25A (65W)
Output PD-2(PPS): DC 3.3-11V 3A,
5V3A,9V/3A,12V2.5A, 15V/2A,20V/1.5A (30W)
Output(QC): 5V4.5A, 4.5V5A, 9V3A, 12V2.5A, 20V1.5A (30W)
Output(PD1+PD2): 45W+18W (63W)
Output(PD1+QC): 45W+18W (63W)
Output(PD2+QC): 5V3A (15W)
Output(PD1+PD2+QC): Total 45W+15W (60W)
Chipset:Navitas NV6125 Chip
Size: 32x39x66mm
Color: White/Black
Plug: EU/US/KR/UK
Weight: 137g
Certificate: KC, ITS: CE CB, TCT: ROHS, FCC, ERP
Material: PC housing with V0 fire-proof material
Details: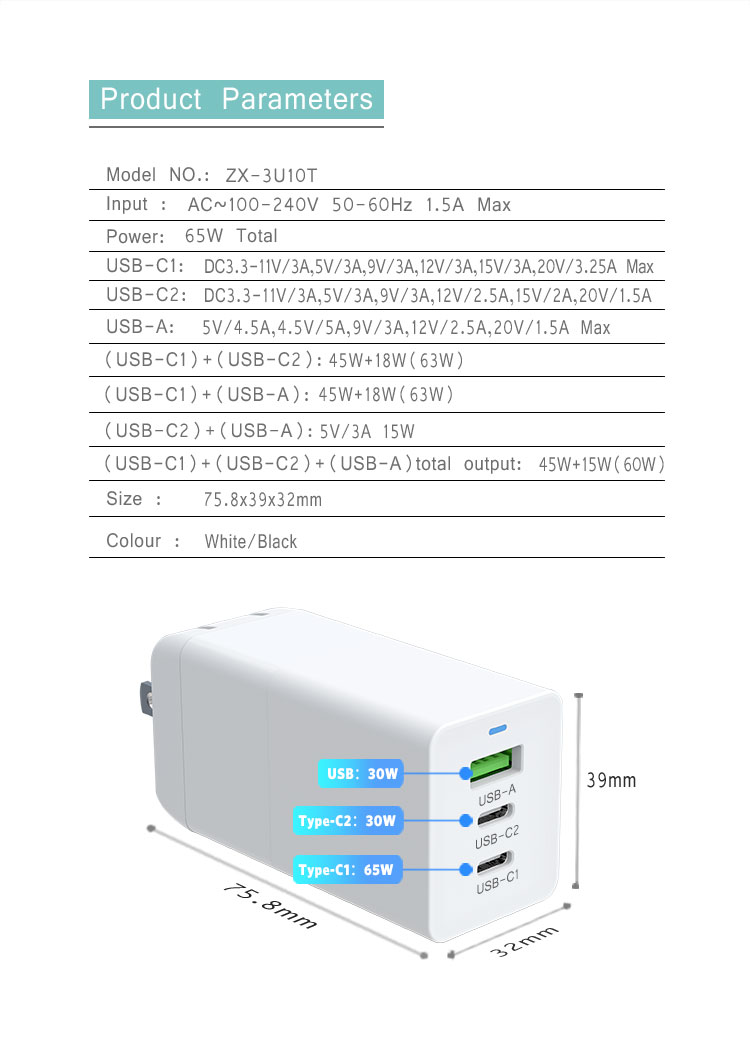 gan 65w charger, type-c1: 65w, type-c 2: 30w, USB port : 30w, fast charge for laptop tablet mobile phones.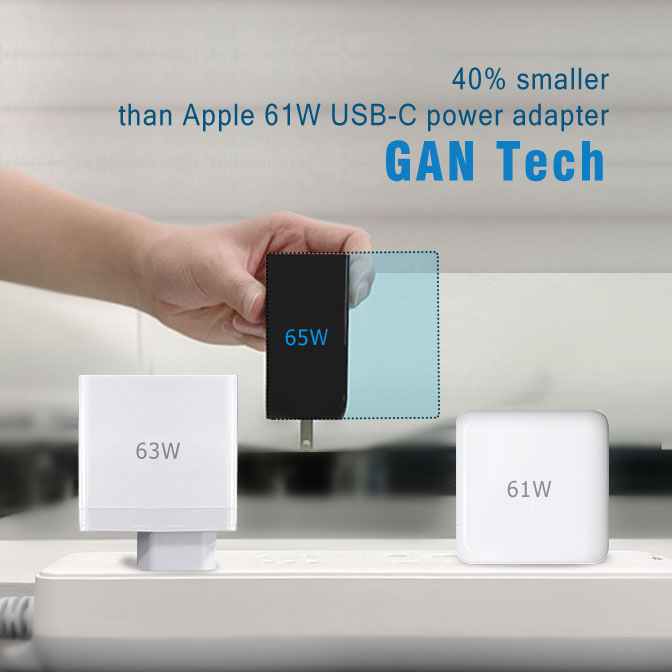 Ultra compact gan 65w fast charger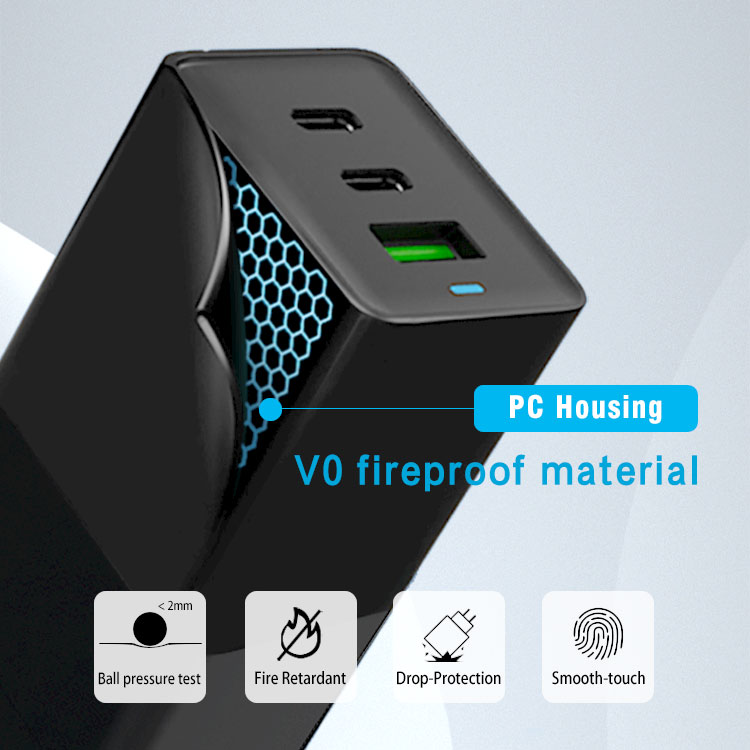 PC housing V0 fire-proof material.
Ball pressure test, fire retardant, drop-protection, smooth-touch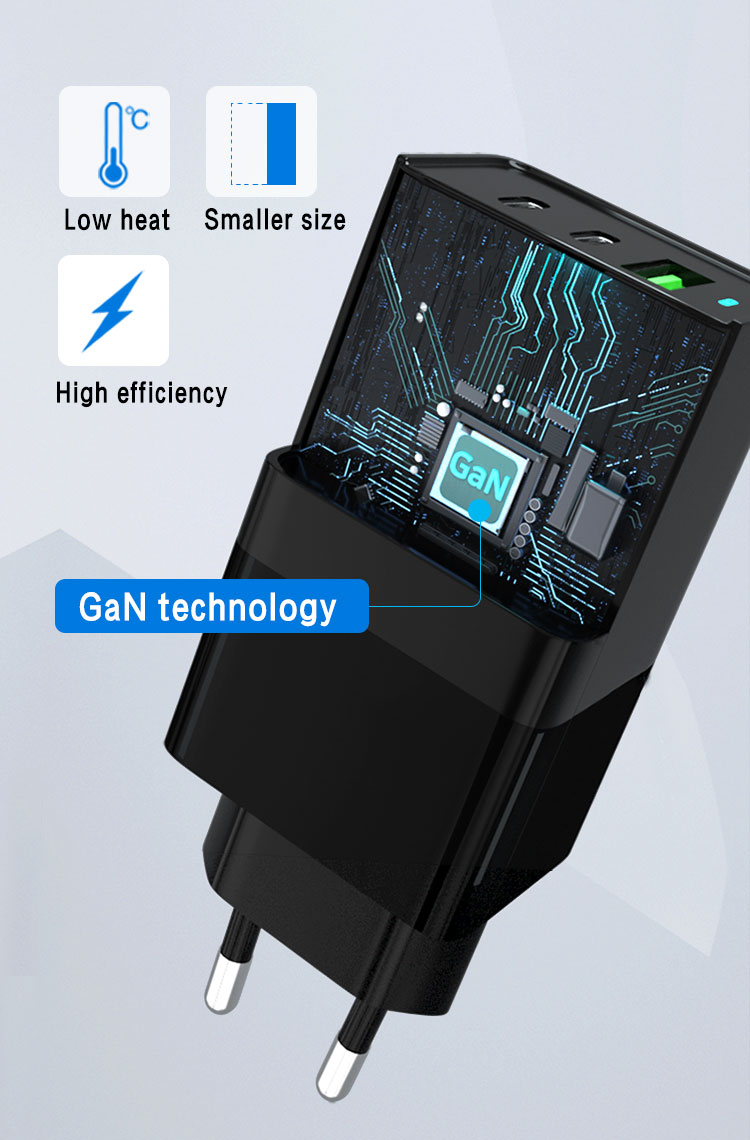 Low heat, smaller size, high efficiency, GaN Technology, Navitas Chipset.
pps fast charge mobile phone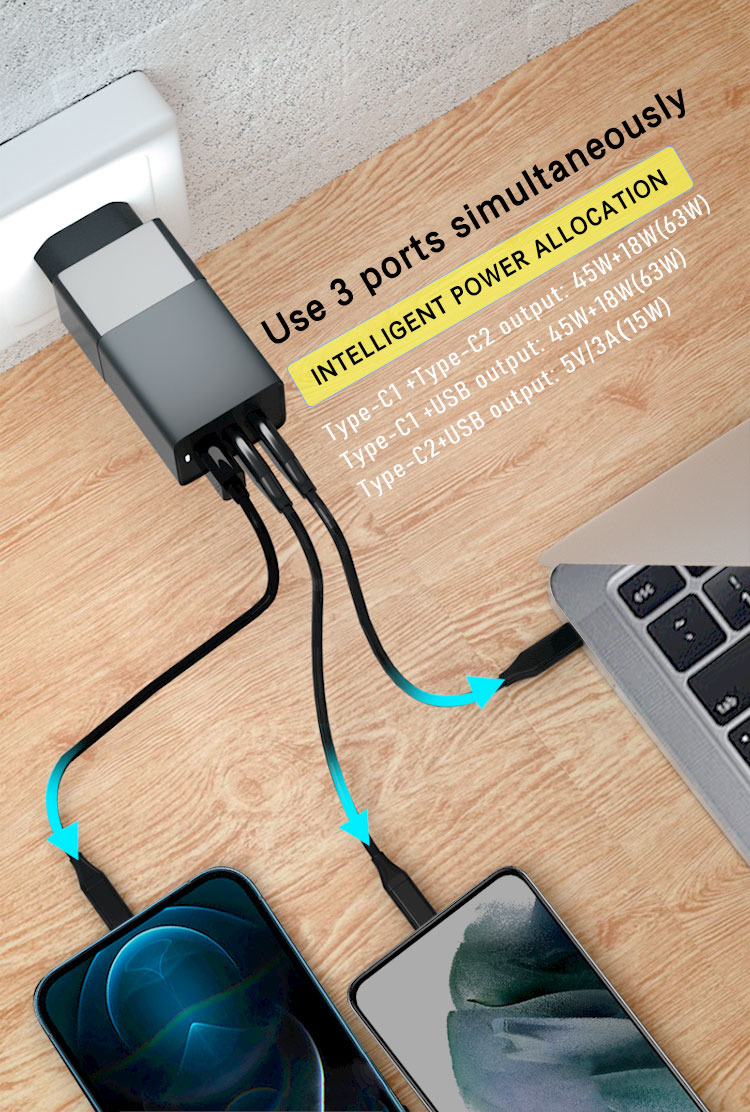 Fast charging three devices at the same time.
Supports Power Delivery and Qualcomm Quick Charge 2.0/3.0 technology, which guarantees extra-quick charging, faster than with conventional charging technologies.
Support Protocol:
Apple2.4A, Sam--sung 5V/2A, QC3.0, QC2.0, QC4.0+, DCP, AFC, FCP, SCP, MTK, PD3.0,PPS