This charger 20w usb-c power adapter for apple 100% match and well fast charging for iPhone12 series, the designed for iPhone user firstly, but at same time our R&D team also considering other brand phone user and different charging slot required, we wish bring more convenient products and life style for user,also same aim as APPLE "environmental protection;" , so we wish a usb phone charger contians type-c and usb a slot in one ,then our 20w usb wall charger came out perfertly. It's mini and lighty ,easy pocket carry as a travel adapter or home charger required,also widely compatible with Apple products like iPhone 12 Mini/12/12 Pro/12 Pro Max, iPhone 11, iPhone 8 Plus, iPad Pro, AirPods Pro. About this 20w usbc power adapter when using type-c slot,the max power is 20w, when using usb-a qc3.0 slot,the max power is 18w,but when using two slot at same time, the max power is 15w for two slot.anyway, as a necessary accesories of mobile phone, this smart phone charger is convenient and deserved to have.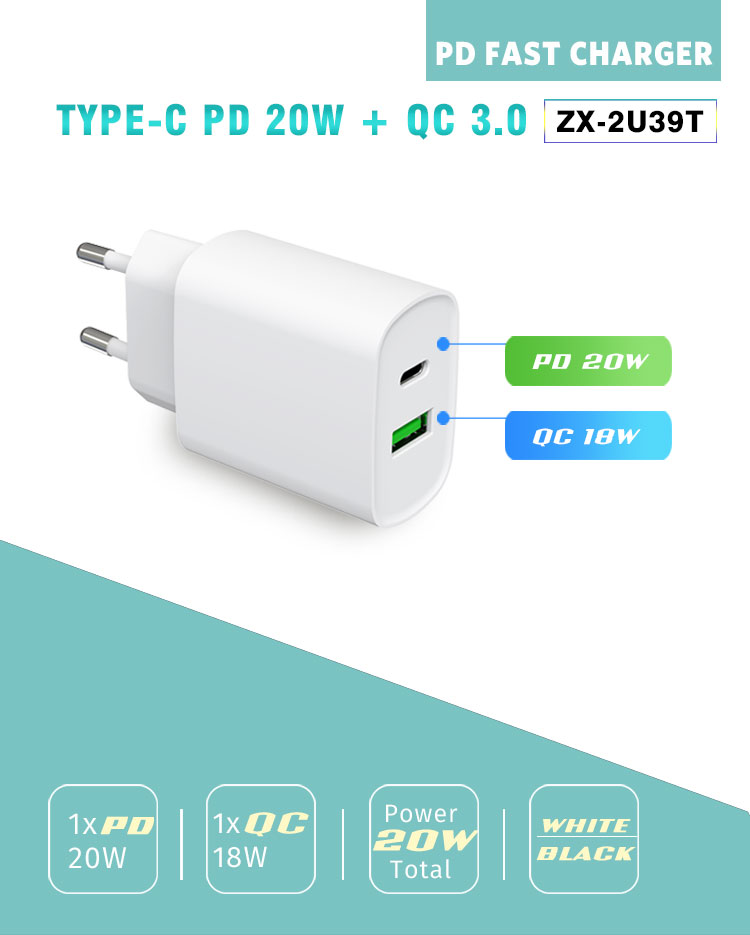 max power 20w, two slot usbc with usba in one charger ,type-c pd 20w slot and usb-a qc3.0w 18w support defferent phone fast charing required at same time.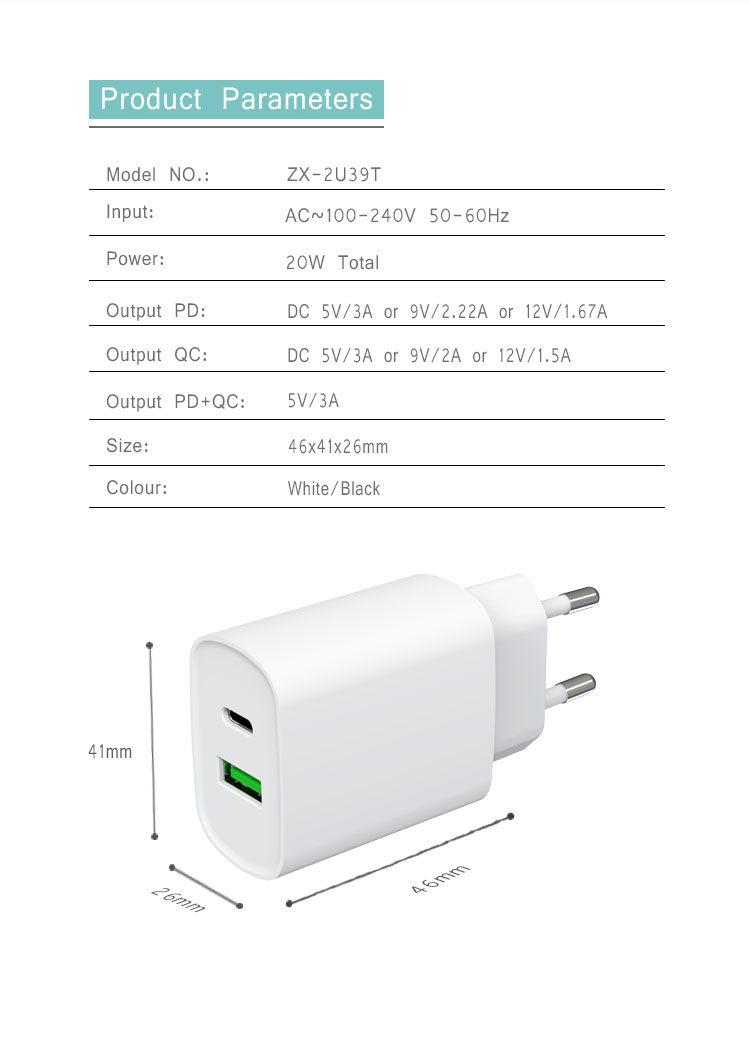 Specification:
Item: 20W dual ports usb wall charger power adapter fast charger for iPhone12
Model:ZX-2U39T
USB Ports: 2 ports
Maximum output power: 20W
Input: AC100-240V(50-60HZ) 0.5A MaxPower:
Output: 20WOutput (QC): 5V/3A 9 V/2A 12V/1.5A
Output (PD): 5V/3A,9V/2.22A,12V/1.67AOutput PD+QC: 5V/3A
Weight: 53g
Size: L46*W41*H26mm
Color: White, Black
Plug type Option: EU.US.KR.UK
Certificates:ITS:CB,CE,ROHS,ERP,KC,KCC.
Widely compatible with suitable for most usb-c and usb-a power supply devices, including iPhone se, iPhone 11 / 12 / 12 Pro / 12 Pro max, Google pixel 4 / 3, LG V50, Samsung Galaxy S10, iPad, PC tablet, etc.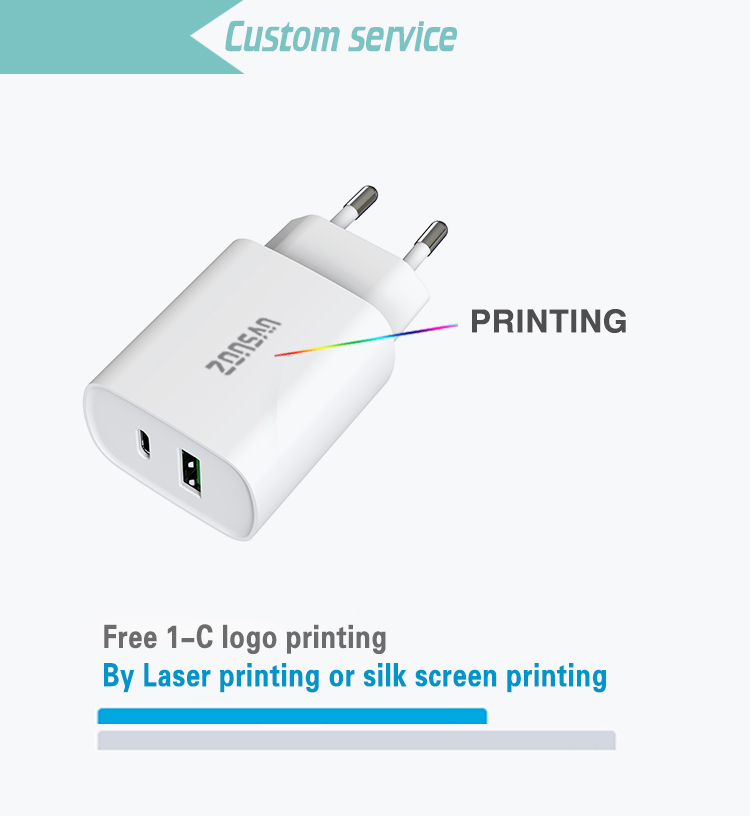 Shenzhen ZONSAN Innovation Technology CO., LTD. is professional in mobile phone accessories proudution, we focuse on phone power adapter usb wall charger oem/odm service. so welcome any of your design and your customized order.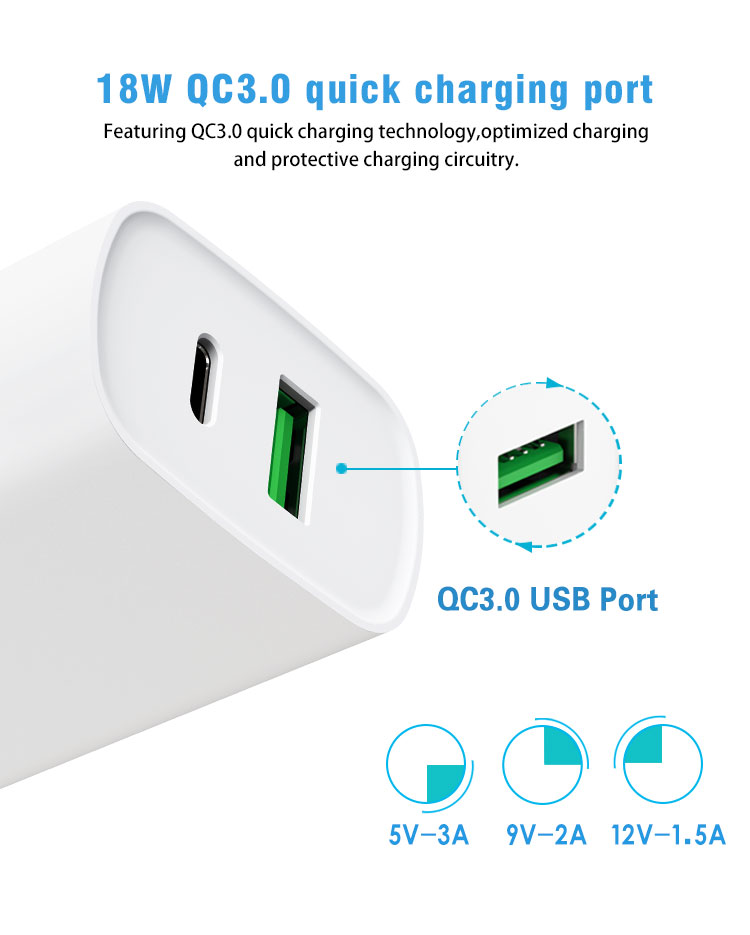 This charger usb-a slot supports qualcome QC3.0 18w fast charing agreement.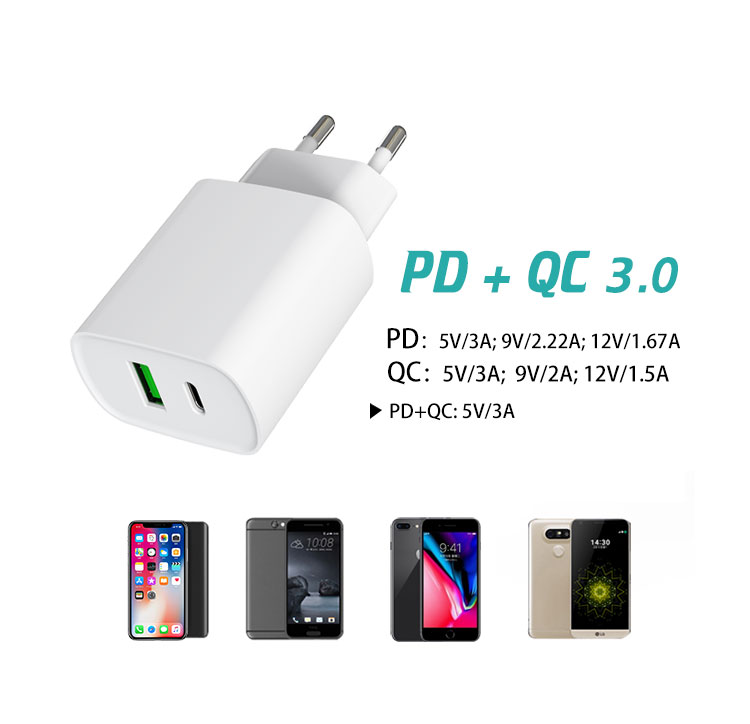 High-Speed Charging: Equipped with a 20W USB-C Power Delivery port to charge iPhone 12/12 Pro/12 Pro Max/ 11/11 Pro/XS/XR/X, iPad Pro, iPad Air, Galaxy S10 / S9 and other Samsung phones and tablets, more up to 3× faster than with an original charger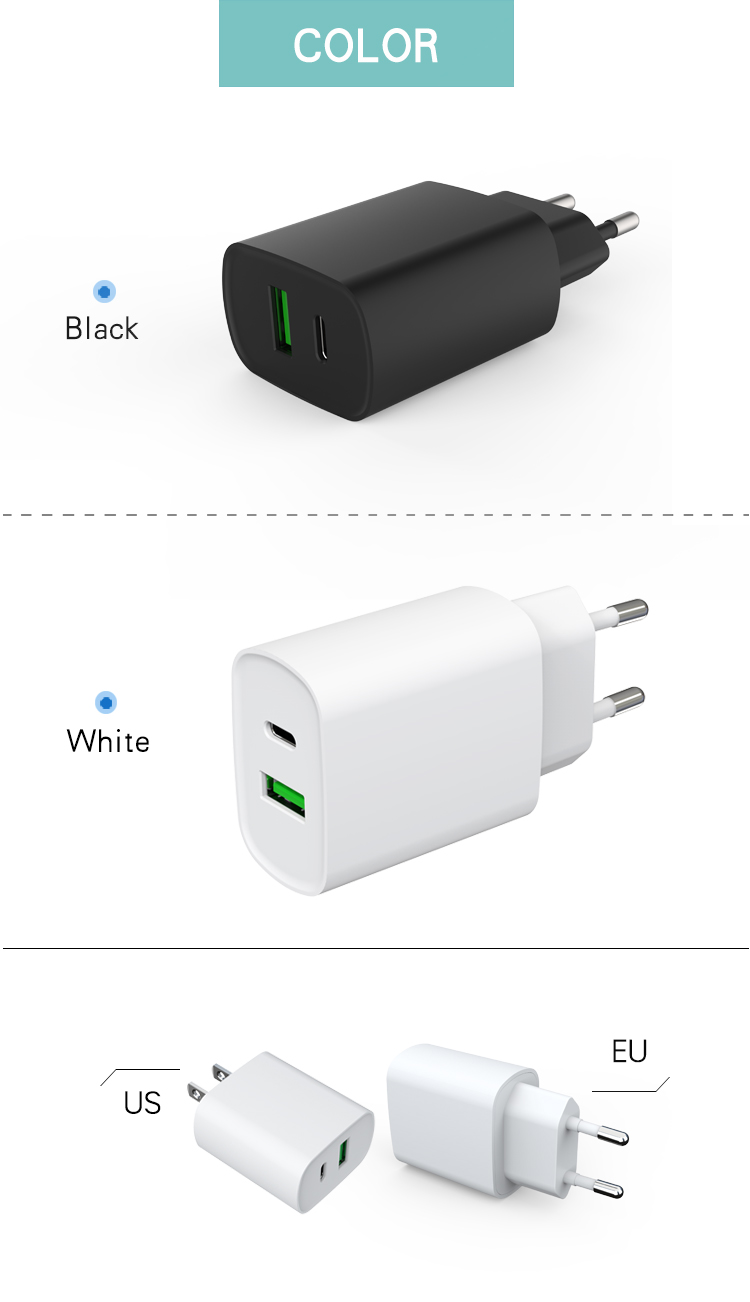 This 20w dual ports usb wallcharger has two color white and black for option, also has plug type like US, EU,KR,UK to match differenct country's power socket required.